M.F.A. Communication Design
Build Your Future With an MFA in Communication Design
Positioned within the School of Art and Design, the MFA in Communication Design at Texas State University offers the advantages of a public research institution, including a diverse and active faculty, opportunities for interdisciplinary study, and affordability. A robust design lecture series and an on-campus residency each semester promote the exchange of ideas and perspectives across a wide range of specialties.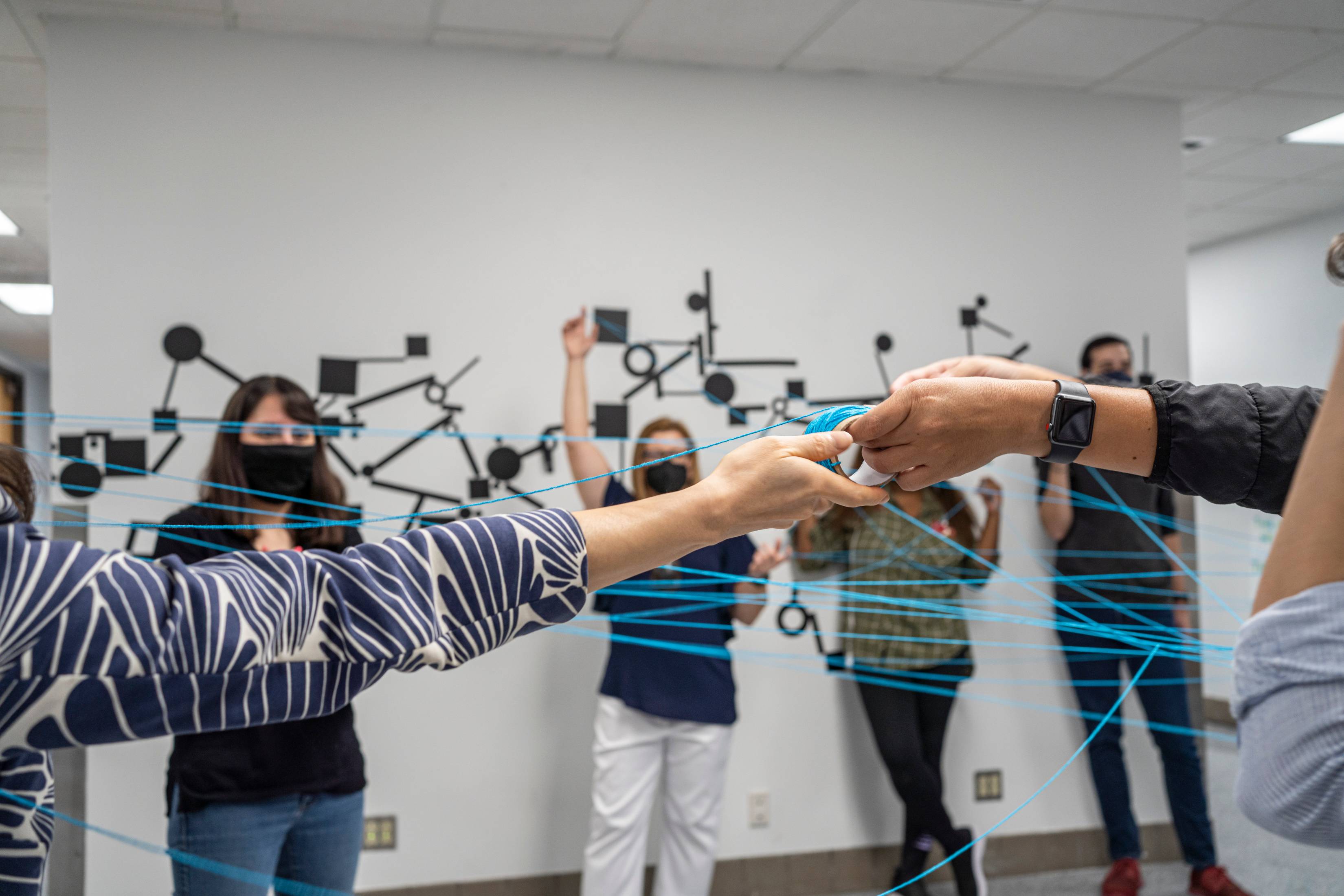 Why MFA/CD?
The MFA in Communication Design is the top degree in the field — a terminal degree. Our low-residency model allows for flexibility. Our tuition rates, even for out-of-state students, is lower than most MFA programs, and we offer assistantships and scholarships.
Emphasis in Conceptual Thinking, Experimentation and Investigation
The degree will require a minimum of 60 credit hours: 18 credit hours of the core curriculum, 30 credit hours of prescribed communication design studio electives, six credit hours of free electives, and six credit hours of thesis. The formal thesis will represent students' research, design, and documentation of an original hypothesis in communication design.
Online Availability
The majority of this program is offered online with a multi-day, on-campus residency each semester. The residency is packed with workshops, critiques, and visiting designer lectures. International students, please visit the International Student and Scholar Services (ISSS) regarding additional considerations in taking online courses.
Graduate Assistantships
The MFA/CD program offers a limited number of assistantships to graduate students to help fund their graduate education. Most of the assistantships in the School of Art & Design allow selected students to gain experience teaching in the undergraduate communication design program. Graduate Assistants are paid a stipend for 20 hours per week of work. In addition, students who would normally be charged out-of-state tuition rates are lowered to in-state rates.
Diverse Faculty and Visiting Designers
MFA/CD faculty demonstrate sustained activity in peer-reviewed forums, including commissions, invited talks, lectures, presentations, and internal and external grant awards. Recognition and publication of faculty design work are evident in published books. Faculty research topics include social practice, publication as collaborative form, alphabetic systems, concepts of interconnectedness, and the dynamic of complementing opposites, human-centered design, screen-based interactive storytelling, rapid prototyping techniques for virtual reality, designing environments to help veterans cope with PTSD, experimental publishing, racist motifs in design. Meet our Faculty
Career Options
Students have a wide variety of potential career paths such as graphic designer, UI/UX designer, design researcher, typographer, and educator. Furthermore, the program equips students to move their careers beyond a traditional 9-5 job and use design to engage their communities. For students seeking a career as an educator in higher education, the program provides mentorship and the appropriate academic credential and the terminal degree in the discipline of visual communication design: the MFA degree.
We Offer:
Flexibility
Affordability (even for out-of-state tuition)
Online/offline learning
Community
Assistantships
Mentorship
Networks
We Value:
Diversity, equity, and inclusivity
Creative research
Social engagement
Community building
Events
Each semester, we program a lecture series featuring a diverse spectrum of contemporary designers and a multi-day residency — scheduled like a design conference — with visiting designers leading lectures and workshops.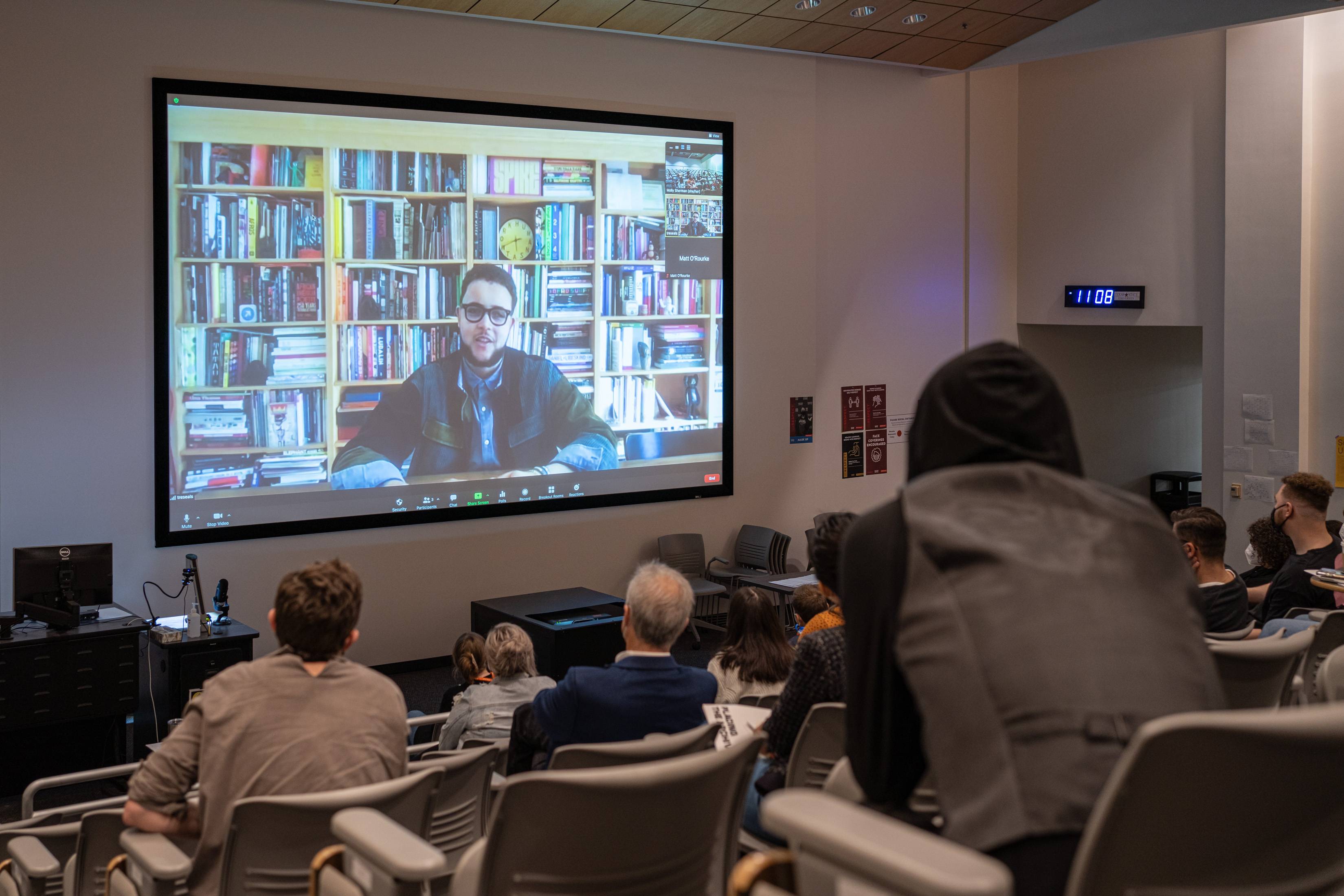 | Deadlines | U.S Citizen | International |
| --- | --- | --- |
| Fall | February 1 (*Flexible) | February 1 (*Flexible through June 1) |
| Spring | October 31 (*Flexible) | October 1 |
The international application deadline for Spring 2024 has been extended to October 31, 2023.
*A flexible deadline means applications received after the standard deadline may be reviewed on a first-come, first-served basis with no guarantees for admission consideration.
MFA Fall 2022 Residency: December 2nd & December 3rd