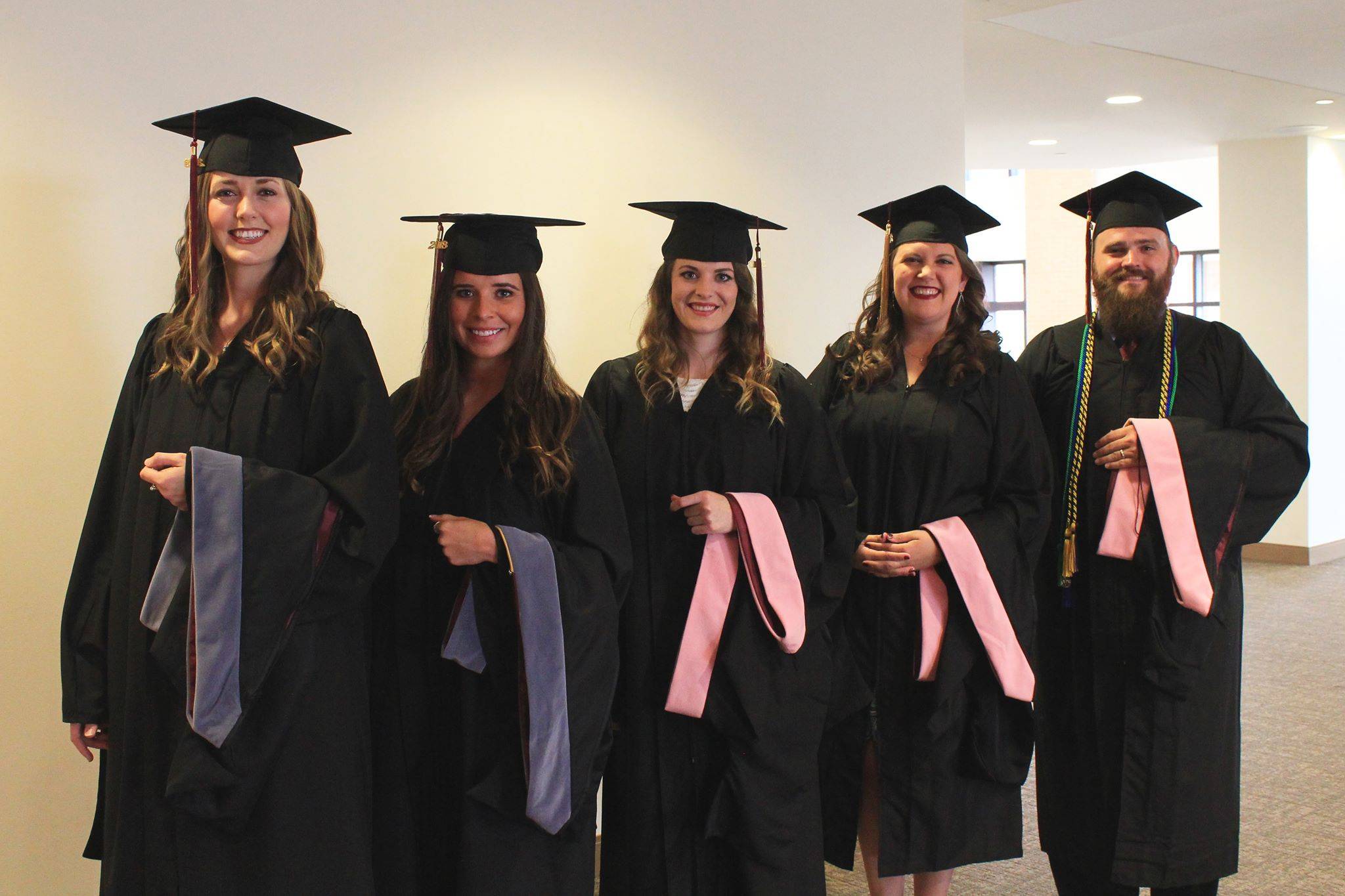 Master's Hooding Ceremony
College of Fine Arts and Communication master's degree graduates and candidates receive their hood because of the level of education they have pursued beyond the baccalaureate degree. Texas State University's colors are maroon and gold, hence these colors on the hood. The velvet trim on the hood signifies the scholar's field. For example, a Master of Music recipient will have his maroon and gold hood trimmed in pink; a Master of Journalism and Mass Communication recipient will have his maroon and gold hood trimmed in crimson, Theatre and Art are the school colors trimmed in brown and Communication Studies is trimmed in Blue. The College of Fine Arts and Communication Master's Hooding Ceremony is an occasion of special recognition for master's candidates to share with their family and friends. During the ceremony, each candidate's thesis director is announced, and the faculty member of the student's choice with a representative from the Graduate College, places the master's hood over the head of the master's candidate, signifying successful completion of the master's degree and full membership in the community of scholars.
---
History and Significance of the Graduate Hood
The origins of academic dress date back to the 12th and 13th centuries, when universities were taking form. The ordinary dress of the scholar, whether student or teacher, was the dress of a cleric. With few exceptions, the medieval scholar had taken at least minor orders, made certain vows and perhaps been tonsured. Long gowns were worn and may have been necessary for warmth in unheated buildings. Hoods seem to have served to cover the tonsured head until superseded for that purpose by the skull cap. Today, hoods are the most expressive component of academic attire. They serve to communicate the owner's school, degree and field of study through their length and the colors of the lining and binding. Today's hoods have evolved from a serviceable article of clothing to a type of elongated scarf draped over the shoulders and displayed down the back with the lining turned inside out.